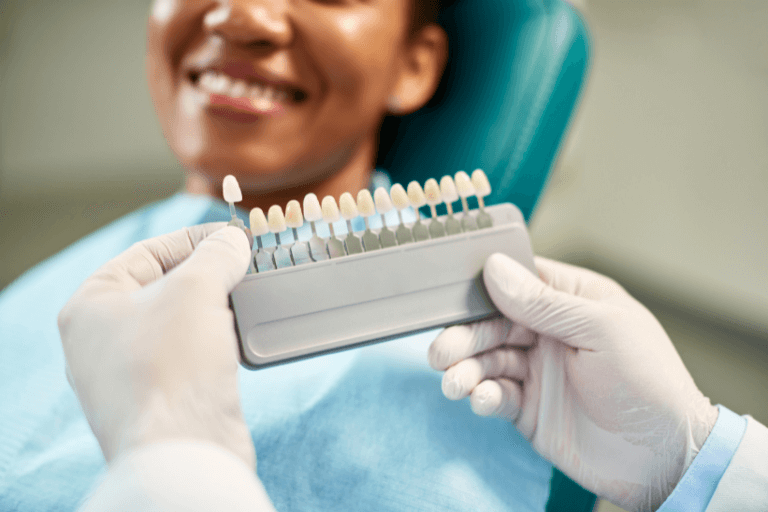 3rd October 2023
Does Teeth Whitening Hurt?
Our smile is one of the first things people notice about us. A radiant, white smile can make a significant impression and boost our confidence. However, maintaining that vibrant smile can be a challenge. This is where dental aesthetics comes into play. Dental aesthetics, also known as cosmetic dentistry, focuses on improving the appearance of teeth, gums, and/or bite. It encompasses a wide range of treatments designed to enhance the overall look of your smile. Teeth whitening is one of them.
Teeth whitening (bleaching) is one of the most popular procedures in dental aesthetics. It's a simple, non-invasive treatment that can dramatically improve the appearance of your teeth. With advancements in dental technology and techniques, teeth bleaching has become more comfortable and accessible, leading to its increased popularity.
The field of dental aesthetics is continuously evolving, introducing more effective and safer procedures. As a result, it's more important than ever to choose a trusted dental practice for your teeth whitening treatment. This is where Roseacre Dental Practice comes in. Located in Maidstone Kent, we pride ourselves on providing top-notch dental aesthetics services, including teeth whitening, to our esteemed clients.
Understanding Teeth Whitening
Teeth whitening is a cosmetic dental procedure that lightens teeth by removing stains and discoloration. Over time, our teeth can become stained or discolored due to various factors such as diet, smoking, aging, and certain medications. Teeth whitening can help restore the natural color of your teeth or even make them whiter than your natural color if desired.
Teeth whitening procedures vary in terms of duration, cost, and effectiveness. They typically involve the application of a bleaching agent, usually hydrogen peroxide or carbamide peroxide, to the teeth. This bleaching agent penetrates the enamel and breaks down the stains, resulting in a lighter tooth color.
While teeth whitening is a safe procedure, it's essential to understand that it's not a one-time solution. To maintain the bleached effects, you may need to repeat the procedure periodically. Also, it's not suitable for everyone. For instance, teeth whitening may not be effective on dental restorations such as crowns or veneers, or on teeth discolored due to certain medications or injury.
Safety and Comfort: Teeth Whitening at Roseacre Dental Practice
Safety and comfort are our top priorities at Roseacre Dental Practice. We adhere to stringent standards to ensure our teeth whitening treatments are safe and comfortable for our patients. Our dentists and dental hygienists are highly trained in the latest teeth whitening techniques and use state-of-the-art equipment to deliver exceptional results.
Before starting the treatment, we protect your gums and lips to prevent any potential discomfort or sensitivity caused by the bleaching agent. We also monitor the entire process closely to ensure your safety. After the treatment, we provide detailed aftercare instructions to help manage any temporary sensitivity and maintain the brightening results.
We understand that teeth whitening can cause anxiety for some patients. That's why we strive to create a relaxing, comfortable environment for our patients. We take the time to explain the treatment process, address your concerns, and ensure you are comfortable throughout the treatment.
Maintaining Your Smile Post treatment
Maintaining your smile after teeth whitening requires good oral hygiene and lifestyle habits. Regularly brushing your teeth, flossing, and visiting your dentist for professional cleanings can help keep your teeth white and healthy. Also, avoiding or limiting foods and drinks that can stain your teeth, such as coffee, tea, red wine, and tobacco, can help preserve your results.
At Roseacre Dental Practice, we provide personalized post-whitening care advice to help you maintain your bright smile. We also offer touch-up treatments as needed to help you keep your teeth looking their best. Remember, a white, radiant smile is not just about appearance; it's also about maintaining a healthy mouth and a confident smile.
In conclusion, teeth whitening is a safe, effective, and comfortable way to enhance your smile. At Roseacre Dental Practice, we are committed to providing professional teeth whitening services that meet your needs and exceed your expectations. Contact us today to schedule your teeth whitening consultation and start your journey to a brighter, more confident smile.