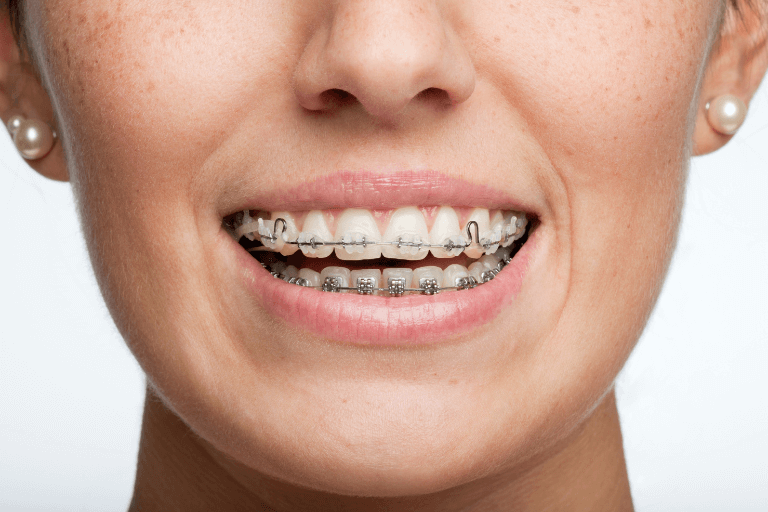 20th April 2023
Foods And Meals You May Struggle With After Braces
Anyone who's interested in adult braces will no doubt want to know all the ins and outs of the treatment, including what it's like to live with braces, such as diet and lifestyle factors. Today, our experienced Maidstone dentists will focus on food and meals, so you can judge which adult brace might be the best fit for your smile.
What kinds of adult braces are there?
Adult braces generally fall into two camps: fixed and removable. The first group, fixed, are fastened onto your smile while in the orthodontist's chair. They can only be adjusted and removed by a dental professional. Removable braces, on the other hand, can be put in or taken out whenever it suits you. The most popular brand of removable braces is Invisalign.
How do you eat with adult braces?
It really depends on the type of brace you wear. With fixed metal braces, you'll need to adjust what you eat, as certain foods could get stuck in the wires and brackets, or even cause damage. Chewing gum is also firmly off the menu. With removable braces like Invisalign, you can eat what you like – as long as you take them out first, and clean them properly.

What can't I eat with fixed metal braces?
Hard and crunchy foods can be an issue with fixed metal braces. For instance, nuts, boiled sweets, crusty bread and popcorn kernels. Sticky and chewy foods can also pose a problem – think toffees, caramels and even certain types of bread. And, pigmented foods can cause discolouration to elements of your brace, like the elastic ties. Finally, sugary foods and drinks should be avoided – especially as fixed braces can be more difficult to clean around.
What meals should I try with fixed metal braces?
Soft foods are ideal, whether it's well-cooked vegetables, fruit sauces like applesauce, mashed potato or flaky fish. Our Maidstone dentists can help advise you on the right foods to try and ones that are best off avoided.
What else do I need to know?
It's really important to clean your adult braces – and this applies whether you've chosen fixed ones or removable ones, like Invisalign braces. And, of course, you'll need to keep your smile clean, too. This might mean investing in some extra bits and pieces, whether it's interdental brushes to bend and flex around wires and brackets, or cleaning crystals for soaking a removable brace.
What's my next step?
To get started on your adult brace journey, talk to our Maidstone team. We'd love to help achieve your dream smile, so pick up the phone and get in touch with us today.
---