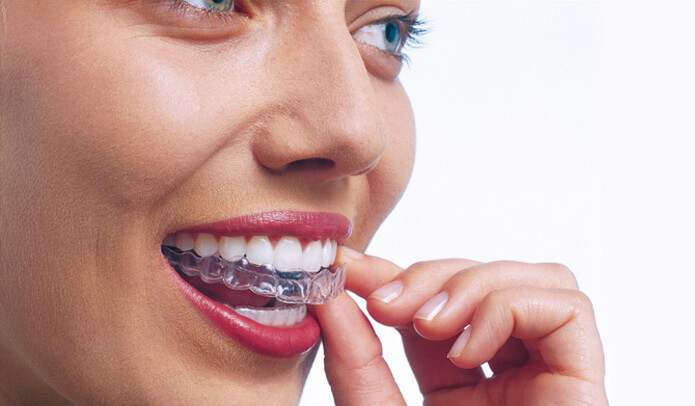 15th July 2019
Invisalign FAQs
So, you're considering getting rid of the unhappy feeling you have with your teeth and with the current look of them. Our teeth mean a lot to us, as they are visible to everyone during almost all of our speech and expressions. If you're currently unhappy with crooked, misaligned, or just generally unappealing teeth then the chances are you're wanting them to get straightened as soon as possible.
What are Invisalign aligners?
Invisalign are a tooth straightening system that do the job of braces but look nothing like them. In fact, they don't carry the traditional braces negative characteristics which opens the gateway for Invisalign to create a far more enjoyable patient journey. Invisalign aligners are essentially two separate trays, one for the top, one for the bottom and fit over your teeth. They're custom made to your mouth and far more personalised as a tooth straightening system.
What does Invisalign treat?
Similar to the traditional brace, Invisalign offers the same capabilities addressing your bite and misalignment. Invisalign helps credit their reputation by being able to correct overcrowding a cross bite, gapped teeth, deep bite and an underbite.
Invisalign are removable
Invisalign are clear braces that are removable. They are not fused to your teeth with dental adhesives, wires or brackets but instead fit over your teeth similarly to a gum shield but picture a more natural looking shield which is clearer and more comfortable. They can be taken during meals, teeth cleaning, and the occasional photo opportunity or social gathering so you don't find yourself limited to the close-lipped smile.
Are Invisalign custom made?
Invisalign are indeed custom made, we will conduct an advanced 3D image of your teeth so that we can plan your treatment journey and provide an estimation of treatment time accordingly.
Are they painful?
The stigma of braces being painful when they are first installed is true. However, traditional braces, the older relative to Invisalign has always been reported to be uncomfortable throughout its duration. Because of their fixed nature, they relentlessly pull and tug into position through force and wires. With Invisalign, you receive a series of aligners which are custom made for your teeth. These aligners vary very slightly from each other, allowing your teeth to be guided into position through softer pressures. Not only this, but they're made of a smooth and durable plastic that won't harm the soft tissues in your mouth. 
If you're interested in seeing what Invisalign can do for you then look no further than us here at Roseacre Dental in Kent to book your initial appointment today.