6th March 2021
Introducing Dr. Robert Coveney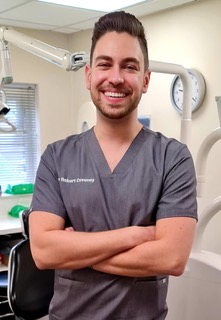 We are extremely delighted to announce that Robert will be joining the dental team at Roseacre Dental Practice this April.

Dr. Robert Coveney BDS Hons (Lond.) qualified from Barts & The London School for Medicine & Dentistry with an honours degree and was awarded the prestigious Evelyn Sprawson prize for overall achievement throughout his studies. He has a keen interest in restorative and cosmetic dentistry, including orthodontics including Invisalign. He has Post Graduate Training in Dental Implantology and works with Straumann Implants in order to provide reliable fixed tooth replacement options.

As well as his experience as a General Dental Practitioner Robert has also been a lecturer at the University of Essex, teaching Dental Hygiene and Therapy on the foundation and BSc degree courses. He is well-versed in orofacial pain and part of the Medical Advisory Board of the Trigeminal Neuralgia Association.

Robert has a gentle, reassuring and friendly demeanour and is experienced in providing high quality dentistry to even the most anxious of patients and children. We're really excited for you to meet him!

Seamless Transition for all of our valued Patients
Sadly Dr. Simon Courtney will be retiring and leaving us on 1st April, but we are happy for his new beginning and we are sure you will join us in wishing him well in this new chapter of his life!
If you have been a Patient of Simon's recently

• Dr. Robert Coveney will be delighted to continue your care.
• There is no need to complete any new paperwork.
• Your next appointment will automatically be booked with Robert.

Robert is very much looking forward to meeting you at your next visit!
---